Last Updated on January 18, 2022 by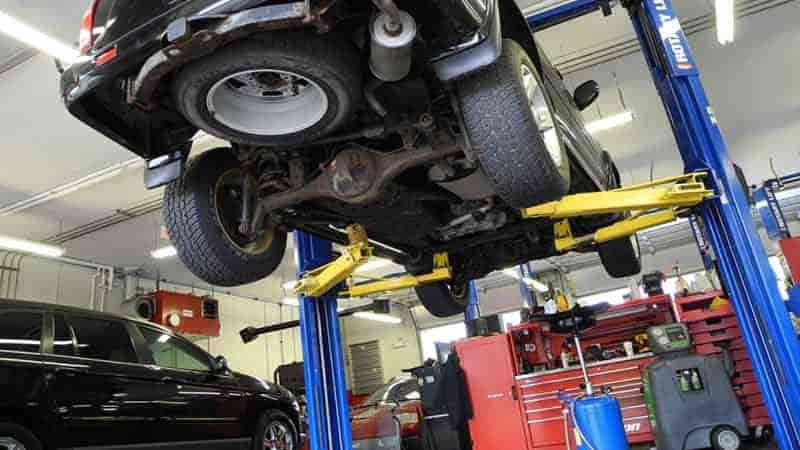 Are you tired of paying a lot of money for a mechanic to work on your vehicle? Do you have the knowledge and skill to work on your own vehicle? If so, then you need a way to access the bottom of your vehicle comfortably. Since most modern cars are too low to the ground, you can't very well slide underneath the car and work on it like a classic mechanic would. You need a car lift mechanism for your home garage which will lift your entire car up in the air so that you can get underneath it easily.
You will have to make a choice between purchasing a 2 post lift and a 4 post lift. The difference is that the 2 post lift has 2 vertical metal beams and the 4 post lift has 4 vertical metal beams. Contrary to popular belief, the 4 post lift doesn't necessarily carry more weight than the 2 post lift. The only reason to purchase a 4 post lift is if you want to park your vehicle and keep it lifted for extended periods of time. That is because the 4 post lift lets you drive the vehicle onto a platform and then it raises the platform.
On the other hand, the 2 post lift picks up your vehicle with a horizontal bar underneath it which is between the 2 posts. This leaves your suspension hanging and your tires and wheels free in the air. It is actually easier to replace parts of your vehicle when it's lifted on a 2 post lift. As long as you don't leave your vehicle hanging on the 2 post lift for extended periods of time, then it is safe to use in your home garage.
Best 2 Post Lift for Home Garage
Below are the top 5 best 2 post lift for home garage.
1) APlusLift HW-10KOH
This one from APlusLift comes with a double "S" column design. As its name suggests, it can lift to 10,000 pounds capacity.
The entire body is made of durable steel with a powder-coated finish, while a robot-welded structure. APlusLift car lifter is CE certified.
This two-post steel lift comes with both symmetrical and asymmetrical arm assembly so that users can pick which one that works best.
You would love this tool for its size and great value. Compared to its competitors, this car lifter comes with higher specs. When you buy this tool, the manufacturer will ship it from the nearest warehouse for minimal damages.
However, some users reported that the manual is terrible. It seems like you have to be on your own when assembling the unit. When you use the lifter for a lot of weight, it may flex.

2) Xk 10,000lbs Car Lift L1100
This one is another brand you can consider when it comes to a two-post car lifter for a home garage. The lifter is capable of lifting up to 10,000 pounds of weight.
The tool comes with a sturdy and reliable pulley system and a 5/6-inch diameter cable. Users don't need to worry about the cabling since it is designed to synchronize better and reduce stress.
This lifter also comes with an ultra-high molecular nylon slider to provide maximum efficiency. Also, its self-lubricating feature allows smoother operation.
Xk comes for those who need extra protection for the car's doors. Working on trucks, SUVs, and Jeeps would be more convenient since it has a double point safety lock feature.
However, you need a forklift or similar tool to haul the car lifter from the freight. This device is heavy, around 1,400 pounds of weight.
Setting up this tool in your garage can be an issue if you don't have the tools.
3) TRIUMPH NT9FP
TRIUMPH NT9FP offers an excellent tool to lift your car. It comes with two-stage and three-stage lifting arms to support both asymmetrical and symmetrical lifting needs. Thus, you can adjust the tool to your need in the first place.
The tool allows you to lift the car to 72 inches above the floor. As long as your garage allows the height, you can utilize the maximum lifting height offered by TRIUMPH NT9FP. Since this tool comes with several latch positions, lifting the car in different levels is accommodated.
However, it might not suit car storage use. If you lift lighter loads, you may want to lift them higher. Even though safety comes with a warranty, the arm safety mechanism is rather stiff. For the sake of safe installation, you need at least four inches of height for the concrete slab.
4) TRIUMPH NT-11
TRIUMPH NT-11 is the bad boy on the list. The tool can lift to 11,000 pounds of weight effortlessly, and can provide up to 72 inches of space underneath the car.
The motor runs smoothly and quietly, which is what you need when you work on your car. Regardless of its size, the NT-11 is easy to set up, even though you may need to read the manual precaution before assembling the tool.
However, you should make sure that your floor can handle its hefty weight. Even though the tool is designed for a home garage, you can use the NT-11 for a professional workshop. Yet, you need a higher tool certification in case you will start a professional workshop in the first place.
All in all, the NT-11 is worth considering regardless of the cons.
5) STRATUS Asymmetric & Symmetric Convertible Clear Floor Overhead Direct Drive 10,000 lbs Capacity Car Lift
Another option to consider is the one from STRATUS. This tool can lift to 10,000 pounds of weight, and you can easily switch from symmetrical to asymmetrical lifting arms.
Coming with the CE certified, you will never go wrong with this car lifter for your home garage. STRATUS also offers a warranty for the lifting structure, hydraulic cylinder, and unit warranty.
According to users, the instruction is unclear, which made them figure things out on their own – most of the things. Other than that, this product is made in China – some people don't prefer made-in-China tools in the first place.
However, STRATUS is such an affordable car lifter you should consider.
6) APlusLift HW-10KBP
The APlusLift HW-10KBP has a weight capacity limit of 10,000 pounds, which is very impressive for a home garage lift with 2 posts. The dual "S" column style, as well as the enhanced floor plate construction, is how the lift is able to handle so much weight. The maximum height you can lift a vehicle is 83 inches, which should take up to 50 seconds. The lift comes with an electric motor that is 220 volts.
7) Atlas PV-12P
Do you need to lift a small truck? If so, then you should try the Atlas PV-12P car lift. Even though it has just 2 posts, it can lift a vehicle which weighs up to 12,000 pounds. This is an extra tall and wide car lift to handle bulky vehicles like trucks. As long as it doesn't weigh more than 12,000 pounds, then it is a good lift.
8) CHIEN RONG CR
The CHIEN RONG CR has 220 volts of power and can lift up to 9,000 pounds automatically. The manufacturer includes a 1-year warranty with every lift sold. The width of the 2 post lift is 133.25 inches, and the height is a little more than 111 inches. Most people have not heard of this brand, but it does work quite well for lifting the average vehicle.
Read also:
Conclusion
Regardless of your choice, be sure to always read the manual before using the lifter. It is never a safe choice to use a tool without knowing the capacity and other specs thoroughly.
Even though many people suggest that a lifter can lift more than the written maximum capacity, respecting the weight limits is always recommended. You don't want to end up hurting yourself due to a lack of respect.
Using a car lifter shouldn't be difficult. As long as you put the tool on a flat surface, you are good to go.
Using the tool on a flat surface also ensures a safe operation without collapsing or slipping. Other than that, you want the car to be stable when you are working on it.
And this is the end section of the best 2 post car lifts for home garage.
Read also:
---
Tips to Choosing 2 Post Car Lift for your Home Garage
Do you have a garage in your home? If so, can it accommodate a car lift? If not, can you expand the height of some portion of it? These first two questions are essential to consider before you even start looking at the different types and models of vehicle lifts.
If you have a 2-car garage, then the standard two-post garage lift will likely fit in without any issues. If you have a single-car garage, or a smaller two-post garage lift will likely be appropriate. There are several different models of single post lift for a two-car garage with minimal ceiling height for you to consider.
In addition to your garage's size and its ceiling height, you might be considering the type of vehicle that will be using it. 2 post lifts are available in manual and hydraulic. One person can operate hydraulic models with just the use of a hand-held remote control. These models are convenient for those who have limited mobility and don't want to lift their vehicle into the air by hand.
However, if you are lifting a heavier vehicle, or simply like to know that you have full control of your lift at all times, then a manual lift might be more appropriate. These lifts typically are operated by two people. One person controls the lift, while the other person unlocks the car and raises it into place.
While researching the various types of lift, consider purchasing a quality car lift for your home garage. It will pay for itself in no time. A quality car lift will last you for years and provide many hours of use. With the right car lift in your garage, you can safely and easily transfer your vehicle into and out of your home garage.
A good quality car lift is a must-have for any car enthusiast. Having the ability to work on your vehicle at home, in the comfort of your garage, is a luxury that can't be beaten. A home car lift is also an important tool for working on more than one vehicle at once. Having a quality two post car lift in your garage means that you can work on your ride and help your neighbor or spouse work on theirs without causing problems.
As always, please read the product reviews for any product that you are considering. This will help you to see what people really think of the product and how well it holds up over time. Take a look at the various models that are available to meet your unique needs. Do they work well, and are they of good quality? Make your decision based upon the information that you read.
Above all else, make sure that you buy the car lift that is right for you. This will ensure that, over time, your lift will continue to be an excellent value for you. The right car lift will enable you to comfortably work on cars while giving you a professional garage feeling without ever leaving the house.