Last Updated on January 18, 2022 by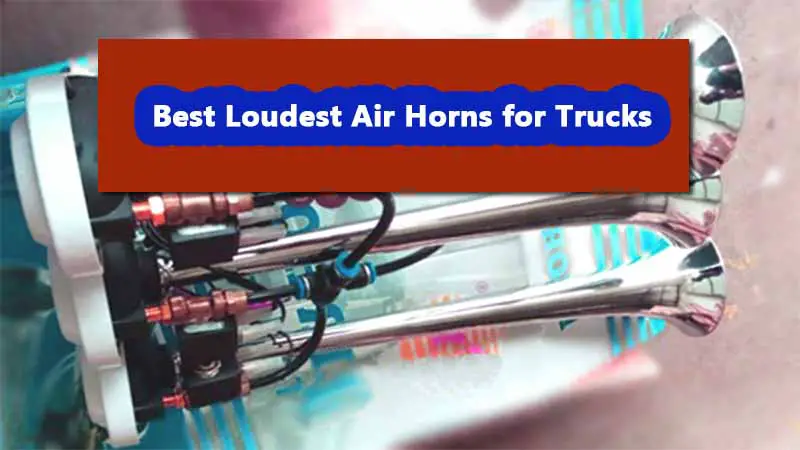 A vehicle horn is a tool that warns other vehicles. Because it uses sound to do that, the horn must be able to produce a sound that other drivers can notice. Or, the sound also must be able to warn the animal or people on the road where you drive your vehicle. Therefore, it should produce a loud sound that can easily reach the target, especially if you drive a big vehicle like a truck. Unfortunately, the horn on many trucks model is not that loud and satisfying. For that reason, you may have to find or install a new horn that can produce a louder sound. Here, we have already shortened the ten loudest air horn products you can install on your truck.
Best Loudest Air Horns for Trucks
1) GAMPRO 12V 150db Air Horn
The first product you can try is the GAMPRO 12V air horn. From its name, you can see one of the best things you can get from this product, which is its compatibility with 12 Volt batteries. Best of all, this kind of battery is available on all types of vehicles, from a car, truck to even a yacht. Therefore, if you plan to get a new horn for your truck, you know that this product does work for your vehicle.
Moving to its performance, you also can see how loud the sound is produced. Yes, it can easily reach 150 dB, which will be the standard specification of all products in this list. This power is very loud that cannot be ignored by other drivers or anything you want to warn with this horn. If you want to know the comparison, a sedan car can only produce 80 dB with its horn. So, GAMPRO makes it almost twice louder than the standard vehicle horn. That would be a great addition to your truck.

2) Zento Deals 12V Single Trumpet Air Horn
Zento Deals offers a complete set of air horns with a compressor that can optimize its sound power. This combination gives it the ability to create a 150 dB sound power that matches our criteria for the loudest air horn for trucks. However, this product is not only loud. Its design is also satisfying.
They use premium-quality material to build this air horn body structure. It gives more strength which is necessary for a vehicle horn. Plus, it also has high durability and a long lifespan. You don't have to worry anymore about the weather or temperature that can affect your air horn quality. It can survive in any kind of situation, from the hottest days of summer to the coldest day of winter.
Best of all, Zento Deals make it easy to install. You will get an air horn kit that helps you to finish your installation job much faster. It has everything that you need, from the mounting hardware to the hose that connects it to the compressor. It is indeed one of the best products you can find in the store, today.
3) Vixen Horns Train Horn for Truck/Car
This four jet black air horn will become the loudest trumpet of your trucks. Its entire body is made of metal. Vixen Horns explained that they choose the best metal to ensure that this product survives in any weather and temperature. Plus, with its beautiful black color, your truck will look amazing with this air horn installed on it.
You also get the 12V electric air valve feature in it, which allow you to connect it with all kinds of vehicle electrical system. Plus, you also get the ¼ inch OD Nylon Plastic 6 feet hose in it. With this length, you can easily place the compressor on any part of your truck and connect it with this air horn. However, if you want to make this product works well, your truck must use the Onboard Air System. It helps you to get the best performance from this Vixen Horns product.
4) Pactrade Marine Boat RV Car Stainless Steel Dual Trumpet Horn
This dual trumpet air horn was created for a marine vehicle, like a boat or yacht. However, Pactrade Marine decided to design it, so it is also compatible with the land vehicle, in this case, is a truck. For that reason, we put it on this list.
As the marine vehicle air horn, this product produces loud sound to ensure it can warn the other ship or boat in the wide-open sea. So, if you also put it on your truck, you can imagine how much power you can get for your truck horn. Yes, it can easily reach 150 dB, which is the loudest compared to other standard air horns.
Moreover, it uses the 12V system that is suitable for cars, trucks, and many types of vehicles. They also choose the best stainless steel material that can survive the harshest weather condition. best of all, it is easy to install and maintain. In short, you get a complete package of air horns for your truck with this dual trumpet air horn.
5) Marco Super Loud 148DB Extreme Blast Premium Air Horn
MARCO calls this product the Extreme Blast air horn. From that name, we can easily understand that you will get an explosive sound from it. The power can easily reach 148 dB at its loudest level. Moreover, you can activate it in an instance. You won't experience any delay between the time you press the button and when it produces the sound. It will immediately produce the sound when you press the horn button.
MARCO also includes a set of the heavy-duty compressor on this product package. You get two of them, which is enough to provide the power this air horn needed for its roar. Furthermore, they use a particular design that gives this air horn very high durability. It means you don't have to maintain it too often. MARCO even says that you don't have to spend your money on its maintenance service.
One thing for sure, this air horn is a good option for your truck, especially if you don't want to have a complicated installation process. Plus, it uses 12V electrical system that you can easily connect with your truck.
6) OEMLINK International LTD Dixie Air Horn Carbon Fiber
OEMLINK air horn has one of the most impressive appearance/designs. They use high-quality carbon fiber material to cover the entire surface of this airhorn. It creates a beautiful yet mysterious vibe that you can't find on other airhorns. Moreover, it also looks elegant on your truck.
One of the unique features is the 12 notes sound. If you are familiar with the Dukes of Hazzard movie, you must know the tone or melody that General Lee played in that movie. This air horn can produce that first 12 notes Dixie melody, which makes it unique and loud.
To facilitate that unique feature, you get five trumpets air horns in its package. It also comes with an air compressor and other equipment and installation kit you will need to put on your truck. Plus, it also uses 12 electrical systems that compatible with many vehicles. Overall, this is one of the best air horns you can choose for your truck.
7) COOCHEER 150DB Train Air Horn Kit
COOCHEER air horn uses one of the best combination materials for this product's category. This brand uses high-quality zinc to build the horn parts. Then, they add the chrome-plated metal to strengthen its construction. This combination creates one of the strongest and durable air horns you can find on the market.
Then, you also get four trumpet horns that can produce 150 dB of sound. It matches your need for a loud horn for your truck. To support this power output, it also includes the 120 psi compressor with four vibration pads to prevent it from moving around and cause damage to your truck floor.
It comes in a compact horn kit. You can install it easily. Moreover, its small size also allows you to put it in any area in your truck. Therefore, it is the best choice for trucks, cars, motorcycles, and other vehicles.
8) Carfka Air Train Horn Kit for Truck Car with Air Compressor
Carfka has made a lot of improvements on this product compared to the previous model. They upgraded the interior structure to improve its power. The result is quite satisfying. This air horn can produce a loud sound, plus a deeper and higher tone. In short, it can warn anything around your truck.
Moreover, it also uses a new design to improve its performance. It has a larger coil on its air compressor for better power support. Furthermore, Carfka also uses better material on the compressor to produce more powerful air pressure. The trumpet part uses chrome-plated zinc with the all-copper coil. These materials are weather resistant. Because of that, it also can last much longer than a standard truck air horn.
Overall, Carfka did a great job on this product. It has a beautiful design and top performance. As for the installation process, make sure you know what you want to do to your car system. Otherwise, you should ask a mechanist's help to install this horn for you.
9) 4 Trumpet Train Air Horn with 12 Volt Compressor and Kit
If you drive your truck in an area that has extreme weather, this air horn is your best choice. Aceshin creates this product with the best combination of materials. Those materials give this product better resistance against any form of weather. Even if you drive your truck in the middle of a blizzard, it can still roar.
Its power can easily reach 150 dB. You can get anyone's attention thanks to this sound by just pressing your horn button. Moreover, it has a compact and portable design. Plus, Aceshin creates this airhorn with easy to install concept for all types of vehicles with a 12V electrical system. Therefore, whenever you want to move it to another truck or any vehicle that you have, you can easily do it in no time.
Read also:
10) Zone Tech 12V Single Trumpet Air Horn
Last but not least, we have Zone Tech single trumpet air horn. Even though it only uses a single trumpet design, its performance is loud and powerful. Try to press the horn button on your truck and listen to its 150 dB sound blast that lets anyone know your truck position.
This air horn uses one of the best metal materials you can find. It can resist any weather and temperature. Moreover, it has a beautiful red compressor that looks great with the shiny chrome trumpet horn on your truck. Performance-wise, this is one of the best choices. As for its appearance, it is very eye-catching.
Conclusion
Now, we hope that you won't have any problem finding and choose the best and loudest air horn for your truck. All ten products we mentioned above are the best choice you can find on the market. However, we won't limit you to those ten options. You can always use them as a reference to find the air horn for your truck that matches your preference. So, are you ready to choose the air horn for your vehicles?