Last Updated on January 18, 2022 by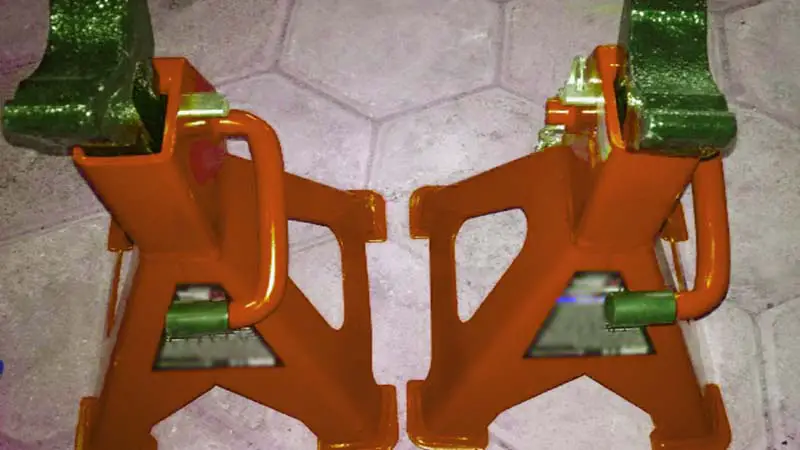 A jack stand is a tool designed to support your car when you lift it with a jack. It seems simple, but this role will ensure safety when you work in the area under your car. The most important thing about the jack stand is its stability and strength/durability. For that reason, we recommend the steel jack stands for you. Steel is one of the durable materials you can find, plus it doesn't easily change because of external or internal factors. It is not only safer, but it also can support your car weight without any problem. Now, to save your time, we have already collected seven products that we consider as the best steel jack stands for your car in this article.
Best Steel Jack Stands
1) BIG RED T43202 Torin Steel Jack Stands: 3 Ton (6,000 lb) Capacity
BIG RED uses the best design to build this jack stand body. They made the pyramid foot base wider than other products. This shape gives this jack stand more strength as well as stability. It does not easily slip or fall because of the weight of the car it carries.
Furthermore, the material they used is not standard steel. BIG RED uses high-grade forged steel, which is one of the steel types that have higher durability. Moreover, the particular welded frame design also increases its strength. Furthermore, it is durable against many conditions. The high-quality steel material also improves its ability to handle various vehicles, from small cars to light-duty trucks.
BIG RED also makes it adjustable. You can set it to have a different height that you like. The specification for its adjustable height is between 11-1/4" to 16-3/4". To support this feature, this company also adds the multi-position ratchet bar. The bar also has a unique saw-tooth design for easier and faster height adjustment.
This product is indeed one of the best jack stands you can find on the market. It is easy to use, plus it also has good durability, strength, and stability.

2) Amazon Basics Steel Jack Auto Stands, 3 Ton Capacity
This basic steel jack auto stand is a part of the series of Amazon products you can get on the store. Indeed, it is not the product from the brand specialized in the automotive tool. But, we see it as another good option you can choose for a good-quality jack stand.
First of all, you can get a pair of them. When you use these pairs of tools together, like what the manual instructed, you will get a pair of jack stands that can support 6,000-pounds of weight. That is enough to support the car you lift without worrying about its damage or having any problem.
The ratchet also has a unique design. The manufacturer makes it, so it can self-locking after you use it. You don't need a key here, which makes everything easier to do. Furthermore, the ratchet design and capability also meet the ASME PASE 2014 Safety Stand requirement. So, in terms of safety, this product is reliable.
With a durable steel frame plus a finely layered rustproof coating on its surface, this tool will last much longer. Furthermore, you also get a 1-year warranty from it. It is a good investment you can make for your car maintenance purpose.
3) Pro-LifT T-6903D Double Pin Jack Stand – 3 Ton
Pro-LifT designed T-6903D with durability and stability in their mind. You can see it in the material type that they used. To build a sturdy construction that can hold the car weight, they use the stamped steel. Thanks to this material, this jack stand can hold 3 tons of weight. Most of the car is that heavy, so that specification is enough for your work.
The high-quality material is not only used on body construction. Pro-LifT also uses it on the ratchet part to ensure that you can use this tool in any condition. The ratchet bar itself is made of high-quality cast ductile iron. It cannot easily be damaged or bend because of the force that it received from your car's weight.
Moreover, it also has a double lock mechanism. It uses the handle lock to keep the ratchet bar in place when you use it. Then, the other lock's system is the mobility pin. Then, once you adjust its height, you can use it to keep that height even the car weight on top of it push it down.
They also use a smart mechanism for adjusting the height. You can smoothly move it upward or downward. After you finish your job, release the locks and mobility pin to turn it back to its initial height. Therefore, we put it on this list because of this durable design and high performance.
4) Performance Tool W41022 3 Ton (6,000 lbs.)
If you are looking for a jack stand with the best performance and low budget, you can try this Performance Tool's product. You get one set that contains two steel jack stands. Each of them has high performance and durability that help your work to repair or do the car maintenance without trouble.
The capacity of this jack stand is similar to the previous product we mentioned. It can hold 3 tons (6000 pounds) of weight. Then, it has the lift range start from 11-1/4 inch to 16-3/4 inch. This capability makes it more versatile. You can use it on cars that have low ground clearance. It also works well on light-duty trucks that have higher ground clearance than cars.
To improve its strength, Performance Tool also uses sturdy material to build this tool. The frame part uses heavy-duty steel. This material has high durability and stability. Moreover, the base of this jack stand also has a wider design than the top part. It has a shape like a pyramid, which spread the weight evenly and gives it firmed position when you use it.
In short, you can count on this tool to hold your vehicle weight. Moreover, you can get it without spending too much budget. That's a big plus for a jack stand product.
5) Esco 10498 Jack Stand, 3 Ton Capacity
Next, we have a product by Esco. This brand has released so many high-quality and popular tools for vehicles. As for the jack stand, this beautiful silver-colored product, the 10498 jack stand, is our best choice. It has good performance, which makes it enter our best product list.
As mentioned on the official site of Esco, this jack stand is designed with quality and durability as its main focus. It has 3 tons capacity, which is the standard specification for a top-quality jack stand. Therefore, professional mechanist also uses it as one of their tools to use when they do their job.
Other than high-quality material and durability, Esco also uses a unique design it. One of the amazing designs is the top rubber saddle. It has a flat shape and is removable, allows you to adjust it to match the car frame that it holds. Furthermore, this design also protects the car frame from damage. It is indeed a better design than the curved axel post on most jack stand products.
On the bottom part, it uses circular base pads. It is made of anti-slip material for better stability and safety. Moreover, you also get a lock system that is easy to use. Once you reach the height that you want, you can quickly put the lock to keep that height. Last but not least, it uses a powder coat finish to prolong its lifespan and protect it against rust.
6) Apextreme Steel Jack Stands 3 Ton Capacity
Apextreme jack stand also is one of the best you can find on the market today. It has various height ranges you can choose freely. In this package, you also get a pair of the jack stand. Each of them has 3 tons (6,500 lbs) of capacity. That capability is enough to help your car or any vehicle repair job.
It also uses the sawtooth-type ratchet bar. This ratchet bar type allows you to adjust the height easier and without using too much energy. As for your safety, Apextreme adds the double lock protection feature. Once you use this feature, you don't need to worry anymore. You can have a peaceful mind repairing your car while this jack stand will hold it firmly.
To improve its stability and strength, Apextreme uses a wide pyramid foot base. Plus, the part that makes a contact with the floor is also big. It gives it a stable position even though it holds the weight of your vehicle. It is indeed a good choice for you who want to have a jack stand that is easy to use.
7) Omega Lift 32038 3 Ton Jack Stands Pair
Last but not least, Omega Lift also has the jack stand pair that you can try. It uses sturdy stamped steel for its body. Moreover, the welded frame design also increases its durability. The ratchet bar uses high-quality cast ductile iron that allows you to move it in a different position. With a double locking pins mechanism, you can secure its position.
Read also:
Conclusion
Whenever you need a new steel jack stand or upgrade version of your old one, the product in our list above is a good choice for you. Find one that matches your need and preference. Guaranteed, you will get the best tool for car repair or maintenance.