November 30, 2020
Top 5 Best Jumper Cables for Diesel Trucks and SUVs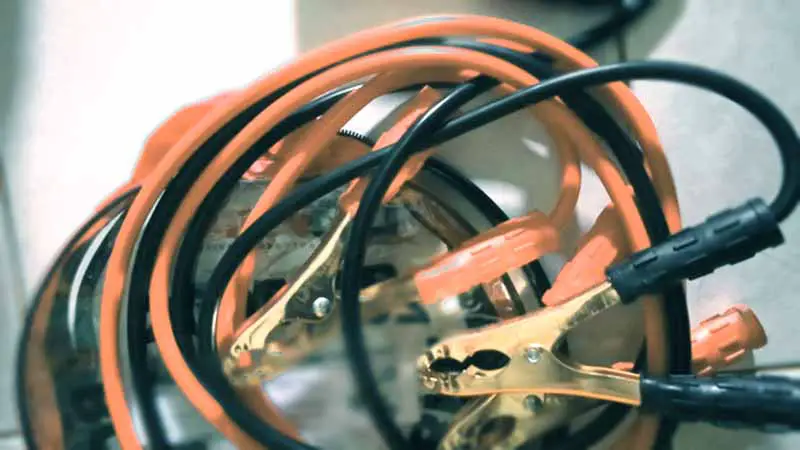 Never leave home without a good set of jumper cables in your diesel truck or SUV. Truck batteries tend to drain quickly because of the massive power it must produce for the starter motor and other electrical features.
If your truck battery gets low on power while you're on the road or parked somewhere away from home, then you'll want to have jumper cables readily available to jump-start it. That way, you can drive your truck or SUV to an auto shop without requiring a tow truck to deliver the vehicle for you.
It is important to choose the proper jumper cables which are compatible with your diesel truck or SUV. Don't just use a standard set of jumper cables used on ordinary car batteries because they're not compatible with truck batteries.
Our Best Picks
To save you the trouble of searching for a good set of jumper cables, we've performed the research for you. Below are the top 5 jumper cables for diesel trucks and SUVs.
1) CARTMAN Heavy Duty Booster Cables 1AWG – 800A, Jump Cable 1Gauge x 25'
The CARTMAN Heavy Duty Booster Cables fit easily on your truck battery's top posts and side posts. They contain copper-coated aluminum for ultimate safety and protection while they're in use. If you have a large recreational vehicle, full-size pickup truck, or freight-hauling vehicle, then you will want to have these booster cables stored in the back of it.
The cables have TPR material that offers low-temperature immunity of -13 degrees Fahrenheit. The total weight of the cables is approximately 10.87 pounds. The dimensions of the packaging are 13.55" x 12.92" x 4.61". The manufacturer indicates the cables are for 800 AMP use. The conductor is 50% greater compared to the 2-gauge version. The total length of the cables is 25 feet.

2) Energizer 1-Gauge 800A Heavy Duty Jumper Battery Cables 25 Ft
The Energizer 1-Gauge 800A Heavy Duty Jumper Battery Cables are compatible with just about any vehicle battery. You can use the cables to jump-start the batteries of small cars, mid-size cars, full-size cars, SUVs, and trucks. The handles contain a powerful spring on the interior and a thick vinyl coating on the exterior, making them easy to grip. The shelled vinyl-coated clamp adds extra resistance against corrosion and rust.
You won't have to worry about tangling up these 25-foot long booster cables. The copper-clad aluminum will stay flexible in cold and hot temperatures. So if you want to keep your booster cables in the trunk of your vehicle, they should remain flexible and healthy no matter what the temperature is like on the inside.
And, of course, Energizer is a recognized brand that everyone trusts. This manufacturer gives customers a 2-year warranty on their jumper cables.

3) TOPDC Jumper Cables 4 Gauge 20 Feet Heavy Duty Booster Cables
The TOPDC Jumper Cables 4 Gauge Heavy Duty Booster Cables contain copper-coated aluminum material, allowing power to be transferred fast and efficiently from one battery to another. These are 4-gauge heavy-duty jumper cables with PVC insulation to ensure maximum flexibility under extreme temperatures. If you don't like getting your cables tangled, then you'll appreciate the tangle-free design of these cables.
Attaching the clamps to the battery posts will not be a problem. The clamps have a strong jaw design structure to ensure they stay attached to the posts without accidentally falling off. The manufacturer offers a whopping 5-year warranty to all buyers, one of the most significant warranties offered on this list.
The TOPDC Jumper Cables are suitable for SUVs, vans, trucks, cars, and motorcycles. If you have different types of vehicles, you can use these jumper cables for anyone of them. It also helps you get a jump start from other vehicles that are different than yours too.

4) Voilamart Auto Jumper Cables 1 Gauge 1200AMP 20Ft w/Carry Bag
The Voilamart Auto Jumper Cables are high performance, heavy-duty cables. They are 12 millimeters thick and a 1-gauge grade, which means they allow more electricity to flow through them. Their quality PVC insulation allows the cables to be resistant to acid, heat, and oil. The handles contain this same insulation to protect your hands as you work the clamps on the battery posts.
The jumper cables are 20 feet in length and have a tangle-free design. That means if you ever need to store your cables in the trunk or somewhere else with low temperatures, they will remain flexible and tangle-free the whole time. The cables are compatible with all vehicles with 12V, 6V, and 12V batteries. These include large trucks, regular-sized trucks, vans, SUVs, and cars.
A zipped carrying case is included with the jumper cable set. It will make it easier to store the cables and keep them safe from outside impact from the weather.

Read also:
5) Professional Booster Cable 1 Gauge 20 ft 800 AMP
Are you looking for industrial-strength jumper cables? If so, then you'll like the Professional Booster Tangle-Free Jumper Cables. They are 20-foot long cables with 800 amps and 1-gauge. The low gauge number signifies the cables' ability to transfer electricity fast and efficiently. Each cable is also color-coded to signify whether it is for the positive post or negative post of the battery. That means there is less chance of confusing the two when you attach the clamps to the posts.
Your cables will remain safe from the heat and cold because of the temperature-resistant shielding. The heavy-duty clips are also rust-resistant to ensure their longevity and usability. A bonus travel bag is included with the cables. You can use it to carry the cables around or store them in the trunk of your vehicle for maximum protection and safety.