Last Updated on November 20, 2021 by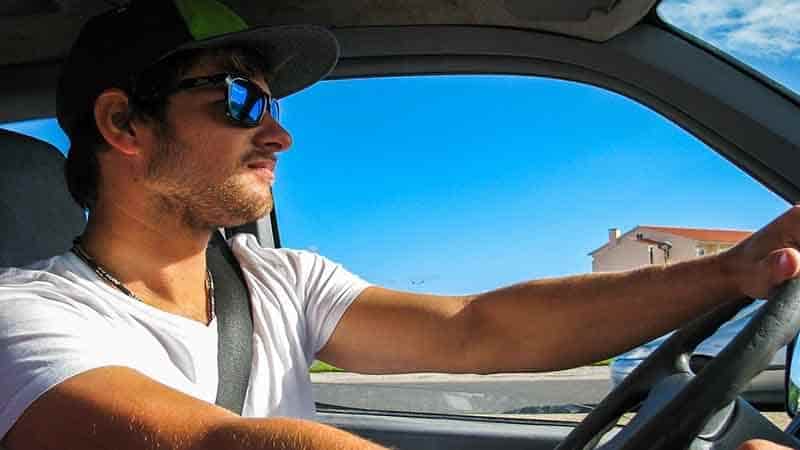 When we think about the sun shining down from the sky, we often think of a beautiful day with bright blue skies and white fluffy clouds. More importantly, sunlight illuminates your environment so that you can see your surroundings more clearly while you're driving.
However, if the sunlight shines straight through your windshield from an easterly or westerly direction, then it'll become more difficult to see the road. The sun visor in your vehicle can give you some assistance by blocking the sunlight from your eyes, but it does limit the areas of the road where you can see. If there is a traffic light, for instance, then you cannot see it with the sun shining on your face.
The only way to protect your vision in these situations is to wear sunglasses while you drive in the sun. There are two types of sunglasses: polarized and unpolarized. Polarized sunglasses are designed to get rid of glare. On the downside, they don't offer your eyes as much UV protection. So, don't look directly at the sun if you're wearing polarized sunglasses because your eyes can still become affected by it. Choose unpolarized sunglasses if you want better UV protection, but be prepared for more glare.
Top 5 Products
Below are the top 5 best sunglasses for driving in the sun. Some are polarized, and some are unpolarized. It is really a matter of preference, so there is no right or wrong choice. But these sunglasses are the most popular and highest rated amongst users.
1) Maui Jim Peahi Sunglasses
The Maui Jim Peahi is an awesome pair of sunglasses that feature ultra-thin lenses with UV resistant coating on them. Each lens is 39 mm in height and 65 mm in width. The frame is constructed from grilamid material, which is a premium quality polyamide. This is basically a very durable plastic that keeps the sunglasses protected and priced decently.
The Maui Jim Peahi sunglasses are polarized, so you can enjoy the benefits of reduced glare and better vision when you're on the road. The sunglasses stay secure on your head because they're positioned close to your face. You may not find these to be the most comfortable sunglasses, but at least your eyes stay completely encapsulated by the frame and lenses.
2) Oakley Holbrook Sunglasses
The Oakley Holbrook is an affordable brand of sunglasses which comes with plastic lenses and plastic frames. You have the choice of whether you want them to have polarized or unpolarized lenses. Oakley Holbrook is a brand known throughout the world. You can choose from twenty different styles. The lenses also contain an Iridium coating for more glare reduction. The Plutonite material of the lenses offers 100% UV protection.
Read also:
3) Ray-Ban RB3183 Sunglasses
The Ray-Ban RB3183 has a strong metal frame with inexpensive plastic lenses in it. Once again, you have a choice between polarized lenses and unpolarized lenses. The Ray-Ban RB3183 model can also be used as prescription sunglasses, which is perfect for people who have less than perfect vision, to begin with. Not only will you have more visual clarity, but you'll have protection from the sun too.
4) ATTCL Aviator 
The ATTCL Aviator is a pair of affordable polarized sunglasses with composite-based lenses and a frame made of metal. If you love aviator style sunglasses, then you will love how these sunglasses make you look while you wear them. The great thing is ATTCL provides all purchasers with a lifetime warranty. The glare is greatly limited, so you'll see the road very clearly.
5) Serengeti Velocity Sunglasses
The Serengeti Velocity is a pair of unpolarized sunglasses with a titanium frame and two UV-resistant glass lenses. The photochromic technology used in these sunglasses will turn them light and dark over the course of each day. There are molecules in the lenses which expand when you're in a sunny environment. This means they make the lenses darker when there is brightness around them. But when the light outside goes away, the lenses turn clear again.