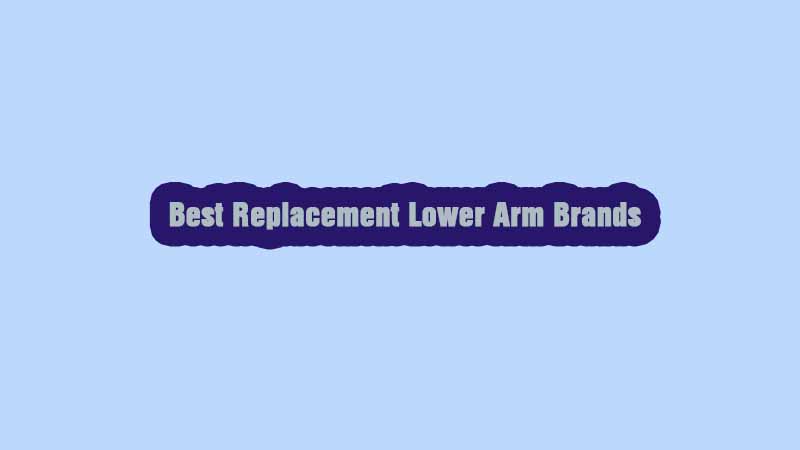 The control arm has a significant effect on how smooth and accurate your car moves. It helps you to control the vehicle easily. Therefore, if it is damaged or broken, there will be a risk of an accident. For that reason, you have to replace it with the new and maybe, a better one. However, finding a good-quality control arm for a vehicle could be difficult to do. Today, you can find so many products that offer the same thing, good performance, and great prices. Because this part is an essential part of a vehicle, we have already shortened for you the top ten best lower arms to replace your vehicle's old control arm. So, you can get and use only the best product.
1) ACDelco 45D2472
Our first product came from the ACDelco brand. This brand is one of the best companies you can find for car spare parts. They have experienced and skillful experts who work on each of their products. Their product is also designed and manufactured to meet international standards. And, this front lower arm is one of those products.
ACDelco chose cast iron to build this part. This material has the best durability. Moreover, it also can survive in various conditions, especially with its anti-rust protection feature. For the bushing part, this company uses rubber material. Therefore, you don't have to worry about the damage that comes from the friction between parts close to this lower arm.
So, as long as your car model is compatible with this part, you will get a smooth and high-performance control after you installed it. With its high durability, you also don't have to change it too often. It also only needs minimal maintenance, which makes it the best replacement for your car's OEM parts.

2) MOOG RK620054
MOOG Steering & Suspension is well-known for the thorough treatment for each product they released. You also can see their special treatment on this control arm for a car. It has a very convenient design. This design enhances the part's structural strength that gives it high durability to survive against impact, repetitive loads, or high temperature. Plus, with the corrosion protection, this part will last longer than you imagined.
MOOG also makes it easy to install. It has high precision tolerance, so even if you are not that knowledgeable on mechanical stuff, you can still install it without any problem. Just follow the instructions, and you can get it done in no time. Moreover, it also uses highly precise engineering, which gives it better noise reduction and higher resistance.
The quality and performance of the MOOG control arm are equal and even better than the OEM part. Therefore, you can always use it whenever you need to replace the control arm. It can replace them without a problem and even improve its performance.
3) Detroit Axle – Front Lower Control Arm
Detroit Axle is one of the best destinations to look for top-quality aftermarket car parts. And, this control arm is one of them. As mentioned in its name, this part is only suitable for a specific car. So, first of all, you have to match your car with that compatible car.
As for its performance, you will get the best one from this spare part. In its package, you will get the pre-assembled parts. Therefore, you don't have to get other parts or extra tools to install it. With the simple car maintenance tool, you can put this part in your car and make it work wonderfully.
One more thing, every product from this brand has been going through many tests and experiments. They did that to ensure that this product will give you the best experience. More importantly, you also get a 10-year unlimited warranty. So, if anything happens to this product, you can always ask them for help.
4) Dorman 521-076
Next, we have Dorman's product. This brand is well-known for its durable and high-performed product. They always conduct all kinds of tests to ensure that their product works well for all cars that are suitable for them. Now, if you have Nissan that needs a replacement for its control arm, this 521-076 model from Dorman could be your best choice. Make sure your Nissan model is suitable with this product before you get it.
This control arm has pre-installed parts that save installation time. You can easily replace the whole control arm part in your Nissan with it without too much hassle. And, as we said before, it also has undergone so many industrial class tests for smooth and stable performance.
Furthermore, Dorman also adds an extra coating to protect it from rust. One thing for sure, you can get it as the replacement or upgrade part for your Nissan control arm. You will get the best performance from this part.
5) SCITOO 12pcs Front Suspension Kit
This product is one of the best control arms for a car on the market from SCITOO. You get a set of every part that you need to replace your old car control arm. You will get the front upper control arm, front lower control arm, front lower ball joint, front inner tie rod end, front outer tie rod end, and front sway bar end link. Make sure you use the correct model that matches your car's specifications.
Each of those parts is made of premium-quality material. Moreover, SCITOO also put this part on a rigorous professional test to ensure its quality and durability. Furthermore, they also give you a 1-year warranty. These are the services that SCITOO gives to its customers for the best and satisfying experience that they will get. You also can buy other parts from this brand if you need one.
6) Dorman 520-219
Dorman has a reputation as the brand that puts customer satisfaction as its priority. You can see that on this control arm. It has one of the best safety and stability properties compared to other products. Thanks to the top engineer and expert that did the test and other experiments, this control arm can provide safety and protection for the passenger as well as the driver.
Furthermore, it is a reliable product. To ensure its reliability, Dorman's engineers researched the OEM parts of the car model that match this 520-219 control arm. They try to find the mistakes and weaknesses of those OEM parts and use it to improve this control arm.  Therefore, this model can last more than 100,000 miles of usage. That is the average mileage of the replacement control arm you can find today.
The design of this control arm also is perfectly fit with your car. You won't have any problem installing it and making it work as it should be.
7) Titaniarm New 14 PCS Suspension Kits
If you are looking for the complete set of all parts you need to replace your control arm, this Titaniarm is one of the best choices. You get 14 pieces of parts in one package. Make sure you know which part you should use in a specific area. Even though it is quite complex, Titaniarm makes it easy to install. So, you won't have a problem using every piece of this suspension kit.
Moreover, Titaniarm also processes its product with the best technology. They use the best material to build this model. So, it is thick enough to survive any impact. Thanks to this material and design, you also don't have to worry about deformation or fracture problems. It will keep in its original shape and quality.
Furthermore, Titaniarm uses bright orange pattern color for this product. It is not only the color to make it looks beautiful and easy to notice. But, the painting also acts as the layer to protect the material from aging and other problem caused by an external factor.
8) DRIVESTAR K620172 K620173
DRIVESTAR treats each part in this package with ultimate care. They use the full-automatic special machine to create the ball joint. It uses the cold extrusion one-time molding with the highest precision. The control arm uses high-quality material. This material gives the control arm body better wear resistance as well as flexibility.
To finish all, DRIVESTAR adds complete protection to the ball joint. They add the oil-resistance layer to protect it from dust. It also has a wear-resistance and pressure-resistant feature to prevent any damage or change of its shape. All these protections allow you to keep using it for a long time. Plus, you get a 12-month warranty. It is one of the best things you can get from this brand.
9) AUTOSAVER88 ATCAA021
AUTOSAVER88 made this control arm with one idea in their mind. They want to create a strong control arm that can survive any weather, conditions, and temperature. For that reason, they use high-quality steel to build the body. Then, they coat it using the electrophoresis method to improve its durability and strength even further. This company also pre-greases it, so you can easily install it on your car.
This part is suitable for replacing the OE parts of your car. As long as your car is one of the compatible cars in its compatibility list, you can use it to replace your old control arm. You can even use it to improve your car control system, as it has better quality and performance than most of the OEM control arms.
Furthermore, in this package, you get all spare parts that you need, from the driver side lower control arm, passenger side lower control arm, and even pre-greased lower ball joints.
10) MACEL K640289 K640290
MACEL control arm is well-known as the best replacement and aftermarket product for all cars compatible with it. First of all, the control arm and ball joints have the same quality as the original parts of the car. MACEL uses the ISO 9002 certified facilities to build this part. Using the latest technology and premium-class material, you can expect nothing but the best from this product.
Other than that, this brand also adds extra protection to ensure that it will work for much longer than other products. It has an anti-corrosion coating. Moreover, MACEL also uses steel tubing and solid plate mounting bracket design for higher strength and durability. After you correctly install it in your car, it won't fall or move, which can affect its performance.
Moreover, it also has a 2-year warranty. Plus, every customer also receives lifetime support. If you get this product, you can always contact them, whenever you have any problem.
Read also:
Conclusion
So, whenever you find any problem or damage to your car's control arm, those ten products are the best options for you. Each of them has the best quality and performance, much better than the OEM spare parts. You can find them easily from many stores. Just make sure you choose the compatible product if you want to get the best performance and benefits.