Last Updated on January 18, 2022 by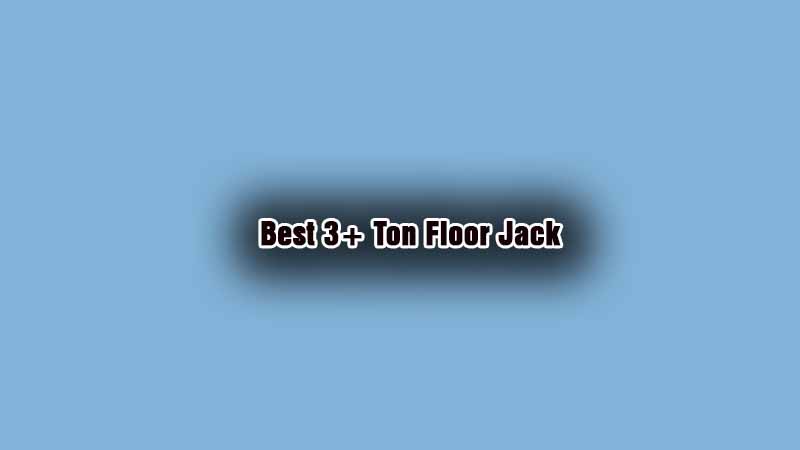 When you have to make repairs to a truck without an auto lift for assistance, you'll have to rely on a floor jack instead. Floor jacks are more powerful than standard jacks because they can lift your truck much higher off the ground.
If you have a standard-sized truck or SUV, it probably weighs less than 6,000 pounds. There is no sense in spending a lot of money on a floor jack with more than a 4-ton weight capacity. You can spend less than $200 on floor jacks with a 3-ton weight capacity and still achieve the same results for your light truck.
Now all you have to do is find the best floor jack for lifted trucks which fits meets these requirements. Fortunately, we've done all the searching for you.
Best 3+ Ton Floor Jack for Lifted Trucks under $200
Below are the top 7 best 3-ton floor jack for lifted trucks under $200.
1) Blackhawk B6350 Black/Red Fast Lift Service Jack
The Blackhawk B6350 is a high-end floor jack with 7000 pounds (3.5 tons) of capacity. If you want the very best hydraulic floor jack for light trucks, you can't do much better than the Blackhawk B6350. Everything from the design to the functionality makes it easy and straightforward to use.
Since the Blackhawk B6350 is smaller than other comparable floor jacks of similar weight capacity, you can maneuver it around more easily underneath your truck. It is also easy to store in the back of your trunk because it doesn't take up much space. The dimensions are 28.5 inches in length by 13.75 inches in width by 6.50 inches in height.
It has an integrated internal safety valve and a vent plug to guarantee your safety during operation. If you accidentally attempt to jack up the truck too much, the safety valve will stop you from pumping any further. This prevents damage and injury.
The floor jack is constructed out of heavy-duty steel for long-term use. Its fast-lifting technology includes a swivel saddle for positioning the jack under the truck more quickly and conveniently. It is perfect to use in residential or commercial garages.


2) Pro-LifT G-737 Grey Speedy Lift Garage Jack
The Pro-Lift G-737 is a fast and easy-to-use garage jack. Even though it was manufactured in China, it is a durable product. The G-737 was designed to resemble the commercial truck jacks used in auto garages. Its quality and performance are what a professional would expect out of their jacks. Its weight lift capacity is 3.5 tons.
The jack features a rubber saddle that protects the vehicle while it is lifted into the air. The universal joint release function allows you to handle the heavy load with precision. The rolled side frame provides extra power so that you can avoid having to twist so much. Your hand will be comfortable holding the foam handle as you pump the vehicle into the air with it.
There is no doubt that the G-737 is reliable and safe. As soon as you bring the garage jack kit home, you can quickly assemble it for immediate use. The assembly instructions are easy to follow. You don't need any prior auto experience to understand the directions.
Of course, you probably have auto experience if you plan to do work on your vehicle from underneath it. You'll be happy to know that the G-737 comes with a magnetic tool tray to hold all your small metal parts and components. That way, you won't lose or misplace any of the parts. They adhere right to the tray.


3) Liftmaster 3-Ton Heavy Duty Ultra Low-Profile Steel Floor Jack 
The Liftmaster was designed so that you could easily maneuver the floor jack under your truck without much hassle. You'll no longer struggle to find a suitable place to position the floor jack. Perhaps the low-profile 3-inch design has something to do with that. If you have a truck or vehicle that is already low to the ground, then you will find this floor jack to be convenient.
The dual pump system makes it extremely easy to pump and lift the jack. The knurled steel handle can give your hand a firm but comfortable grip. There is a foam bumper and potent rubber pad to prevent vehicle damage and friction. Since it is labeled a "quick lift," you won't have to spend much energy pumping the jack.
The Liftmaster can lift a vehicle up to 20 inches into the air. Any vehicle with a high chassis, such as a sports utility vehicle, can benefit from this maximum lift height. And if you're familiar with the "Liftmaster" brand name, you'll know they are a brand you can trust.

4) NOS NSJ0301 3-Ton Aluminum Service Jack
The NOS NSJ0301 3-Ton Aluminum Service Jack is constructed out of ultra-lightweight aluminum material, giving it a total weight of only 58 pounds. You won't have any problem picking it up and positioning it under your truck. All you need is some upper arm strength.
The service jack features a reinforced solid lift arm and thick-framed side plates, allowing it to withstand up to 3 tons of weight (6,000 pounds). The height range extends from 3.75 inches up to 18.125 inches. An integrated safety valve device prevents the jack from overloading the vehicle. The bumper padded handle comes in two pieces, making it easy to operate.
If you're looking for a jack that can lift loads rapidly, you have found the right one. The NOS NSJ0301 is easy for any person to operate. You don't need any prior auto mechanic training or skills to figure out how to operate this jack.

5) BIG RED T83002 Torin Pro Series Hydraulic Floor Jack
The BIG RED T83002 Torin Pro Series is a hydraulic garage jack made of heavy-duty steel material. Anytime you find a garage jack constructed out of steel material, it increases the durability and quality of the jack significantly. The BIG RED T83002 is suitable to use in industrial, commercial or residential garages.
The weight capacity is 3 tons (6,000 pounds). The lifting range starts at 5.5 inches and ends at 20.5 inches. Don't worry about overloading with this jack because there is a safety bypass system in place that will stop it. The system ensures you can operate the jack safely to prevent accidents or injuries. It meets all of the ASME safety standards too.
The BIG RED T83002 offers smooth maneuverability with its 360-degree swivel casters and dual large steel casters. It also provides a much wider stance so that you can stabilize the load more carefully. In addition to using the jack with trucks, you can also use it with passenger cars and SUVs.

6) Aain Heavy-duty 3 Ton Floor Jack, Blue HT3300
The Aain Heavy Duty 3-ton Floor Jack is constructed out of highly durable steel to increase its longevity and stability. The swivel saddle can be utilized to position the floor jack under your truck in a fast and convenient manner. You won't get tired operating the floor jack because it comes with a long two-piece handle. Say goodbye to user fatigue.
Safety features are included too. The saddle has a rubber cushion to prevent vehicle damage while it is jacked in the air. The integrated safety valve prevents overloading if you attempt to jack the vehicle beyond 120% of its weight capacity. Since the floor jack has a 3-ton capacity, the safety valve will stop you if the vehicle weight is 7,200 pounds or more. The Aain floor jack is compliant with the ASME PASE/2014 safety standard.

7) Arcan 3 Ton Low Profile Quick Rise Steel Floor Jack (A20002 / XL3000A)
The Arcan 3-Ton Low Profile Quick Rise Steel Floor Jack features a quick lift mechanism, thanks to its dual pump pistons. The pistons cause the saddle to rise up to the load very quickly and lift it into the air. The safety bypass valve and hydraulic ram components allow you to lift a vehicle slightly past the jack's maximum weight capacity, which is 3 tons.
The chassis has extra strength because of its high-carbon steel side plates. The wide front wheels and rear casters make it very easy to move the floor jack around and maneuver it underneath your vehicle. Don't worry about contaminants affecting the hydraulic system because the wiper seals offer protection against them.
The Arcan floor jack is in full compliance with the ASME PASE-2019 Safety Standard. Arcan is known for putting its lifting equipment through strenuous third-party safety tests so that end consumers can receive a safe and reliable product.

Read also:
Final Words
Make sure you read the instructions of the floor jack carefully. Some floor jacks operate differently than others. After you purchase one of these floor jacks, you must learn how to use it first. That way, you can prevent unwanted accidents or injuries as you're underneath your vehicle.